In which we discuss what I've been doing with my life, and why I'm definitely not a series of increasingly angry raccoons in a person-suit.
But if I WERE that thing, I promise they would be unionized, literate raccoons, with an interest in history and an MFA in creative writing. Here is an interview I did with the lovely people at Sea Lion Press about the study of history, storytelling and how they work together.
I will performed at the 2020 SoLowFestival as a historical storyteller. My work featured episodes from Central Asian, Mesoamerican, Russian and Italian history. Naturally, there is a lot of blood, bribery and not-very clever jokes in the primary source material. So pull up a lawn chair and watch as people extort the Vatican with artillery, dictators get shoved under mountains and poets try to find a good way to explain the end of their worlds.
My current projects range from the Mamluk Sultanate to a web-series on the Beast of Gevaudan.
I am also a recipient of a Fulbright Grant to teach English in Mongolia, starting in 2021-2022. Huzzah!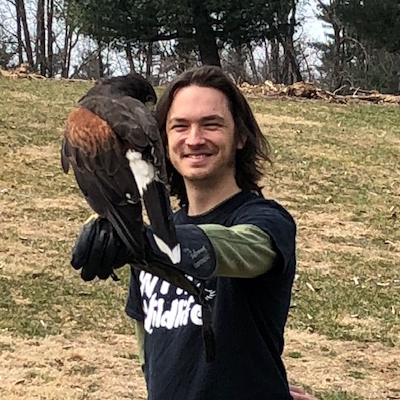 I write and sometimes even get lucky enough to publish from time to time. When I'm not writing fantasy or researching, I sometimes even write academic papers on everything from schadenfreude to human sacrifice. My paper in the works is on Vlad III of Wallachia and the birth of the Russian police state. Thanks, Fyodor Kuritsyn.
I also sometimes write essays on the overlap between lore and actual history for where Magic: The Gathering is concerned.
Find me on Twitter @cballison421